KITCHEN CABINETS CAN LOOK NEW AGAIN!!!
1.
SHAKE IT UP.. 2.PUT IT ON .

.. 3.WIPE IT OFF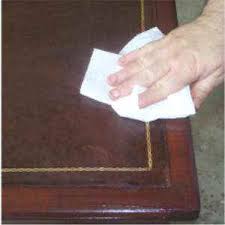 EASY!!
THE ONLY WOOD CLEANER YOU WILL EVER NEED.
Two 16 Ounce Bottles will Clean the Average Kitchen!
1. SHAKE IT UP TO BLEND THE CLEANERS AND OILS (SHAKE OFTEN)
2. PUT IT ON WITH THE #0000 STEEL WOOL APPLICATOR AND APPLY IT DIRECTLY TO THE WOOD WET AND EVEN LIKE A NEW FINISH. IT HAS TO PENETRATE THE OLD FINISH AND LOOSEN THE BUILDUP SO DON'T SKIMP.
3.WIPE IT OFF WITH A GOOD ABSORBANT PAPER TOWEL LIKE BOUNTY OR VIVA. A RAG WON'T GET OFF ALL THE RESIDUE SO USE THE PAPER TOWELS. BUFF UNTIL THE TOWEL IS CLEAN AND YOU CAN RUN YOUR HAND ACROSS WITH NO FINGERPRINTS.
WHAT COULD BE EASIER? RESULTS LAST FOR YEARS WITH ONE EASY APPLICATION.
Don't Refinish, Replace or even Reface---Rejuvenate.
SAFE!!! The Finish Rejuvenator can clean all the wood in your home.
REMOVES STICKY BUILD-UP-Even cooking grease build-up over the Range.(the professional term is GUNK) FROM ANY WOOD. Antiques, Cabinets, Furniture, Baseboards.

REMOVES WHITE AREAS-water, heat, steam and sun can fade a finish. Bring the color back by replacing the oil its lost and making the finish clear again so you can see the color in the wood.

The Oil Penetrates Your Finish So the Shine You Get Lasts~!!! Kitchen Cabinets, Table Tops, Wood Work, Window Sills.

ELIMINATE SCRATCHES-clears out the white trails left in the finish, the scratch dissapears and does not return. Great product to have around for pet owners. zUse for any wood. Gun Stocks, Guitars, Kitchen Cabinets.

Not an every day dusting oil. You've tried them all- Orange oils, Murpheys oil soap, Old English-they're all alike. Most products lay on the surface and collect dust then dry out so you have to do it ONE MORE TIME. Some products can even make grease a worse sticky mess, or even remove the finish. Not a cover up--NO ADDED COLOR-- NEVER CHANGES THE ORIGINAL FINISH BY SMEARING COLOR,STAIN, OR WAX ON THE SURFACE. Why start the buildup all over again with wax and color.
IT'S NOT ROCKET SCIENCE, BUT IT HAS BEEN CALLED A MIRACLE.
A MUST FOR PET OWNERS!!SCRATCHES WILL NOT RETURN
Will not harm any finish. It doesn't even have to be real wood. You're working on the finish (varnish, shellac, laquer, polyurethane, even painted surfaces).
"A Product that REALLY WORKS!"