Everything is about DIY these days so why not join in the buying and selling game too. As a dealer for more than 35 years I have seen trends come and go many times and this one of painting wood is nothing new..the 70's was called "Antiqueing" and you could buy kits with paint and then apply a stain to make the wood look "ANTIQUED". We all did it. Same today. Not every piece I buy and sell has to be painted. I do very well with the oak pieces and great with any wood that isn't falling apart if I use The Victorian House FInish Rejuvenator on it.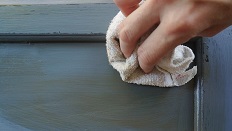 This was called Antiqueing.
Customers always as me what a piece is worth and are they going to take the value away if they refinish. If you are unsure about the worth of a piece of funtiure do you research. Google is a great tool for finding similar items and their value. I don't recomend refinishing unless the original finish is falling off or has darkened so much you can't see the wood then by all means refinish but if the finish is there and just has scratches and white rings or faded areas from the sun Keep the original finish. Clean it and bring back the shine with The Rejuvantor.
Transforming trash to treasures is a wonderful hobby and everyone should try at least one project just to see how their own personality in it. To Paint or not is your choice. I will always prefer to save the original when I can. Right now the Mid Century is really popular and I have found several pieces locally that I have cleaned and sold. Not stripping saves the wood and saves me time and money.
I love mid century