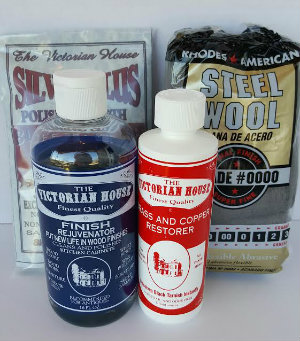 The Victorian House Products for Wood and Metal Restoration.
Finish Rejuvenator - The Best Wood Kitchen Cabinet, Antique and Furniture Cleaner and Restorer!
Brass and Copper Restorer - Non Toxic. Odor Free. Use right at the kitchen sink..Dissolve tarnish and rinse it away.
Silver Plus Buffing Cloth - Clean Silver, gold and jewelry with no mess and not odor. Non Toxic.
$60.00 OR MORE SHIPPING IS FREE --PLUS--
PRODUCTS "ON SALE" SHIPPING IS FREE!